Fully Customized
Web Applications
for Enterprises
Build the Website your company needs.
Modern designs, the fastest performance on the web, and a top-level security.
A Perfect step-forward for your business.
A Web Application is the step every small/medium business needs to take to grow.
Meet your exact requirements to make a powerfull tool on the web for your business.
Get closer to your clients

Grow up your business by improving your brand image and steping up your credibility. With updates, announcements and customer service.

Sell your products online

Expand your limits by offering your services online, getting organic new leads.

Access to your data from everywhere.

Forget about infinite excel sheets in a single computer. All your data in a single admin site, accesible from everywhere, with a rapid search and constant backups.
Privacy-friendly, real-time web analytics
You'll have access to a private page where you will be able to see essential insights about how visitors are using your site, with top pages, unique events, sources and demographics.
Powered by Plausible.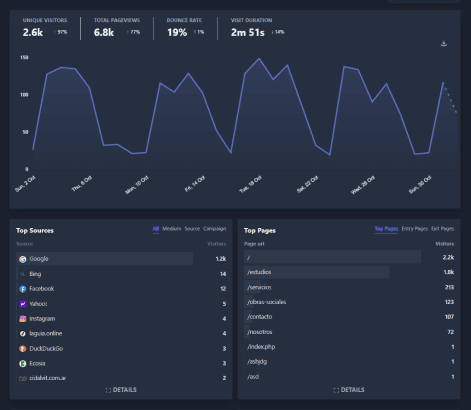 Design
Choose the right option for you, to make a website with modern and beautiful designs.
Pre-built, beautifully designed templates

In the case you need a website in a short time, you can opt for build your site with professionally designed and fully responsive templates.

Hire an expert designer

If your business needs a fully customized new brand image, an expert is ready to take it to the next level.

Take advantage of your current design system

In the case your business already has a defined design system, we can adapt it to the website.
Performance
Speed is critical to customers. Your website will be built with the fastest tools available, reaching the highest rates on the web.
Performace rate:

97 - 100%
A website built with the strongest tech-stack at the moment
Ready to build your Web App?
Let's talk about it.